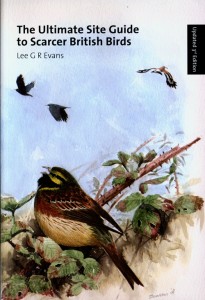 New Edition – Fully Revised and Updated
In 1996 The Ultimate Site Guide to Scarcer British Birds became an instant classic – for the first time in one publication, birders discovered how and where to see over 100 rarer and difficult-to-find species. These are the birds that make birding such an exciting and rewarding activity: there's nothing like the thrill of tracking and observing elusive species such as Hawfinch, Spotted Crake and Great Grey Shrike.
For this new expanded edition, the species accounts have been further enhanced with more than 60 new vignettes from illustrator Ray Scally. For each of the 142 species covered this book tells you all you need to know, including where and when to look – up to six pages per species, detailing up to 50 sites, often including maps and grid references. Get your copy of the new edition today!
Other new birding titles this month include Birding from the Hip and History of Ornithology – for more, browse New Birding Titles at NHBS – September 2009
Our pre-publication special offer for Handbook of the Birds of the World, Volume 14: Bush-shrikes to Old World Sparrows must end 30 September 2009; order your copy today and save £35!