Continuing our selection of the very best titles available through NHBS:
by John D. Altringham
What?
2nd edition of John Altringham's 1996 OUP publication, Bats: Biology and Behaviour
Why?
This rigorous and authoritative textbook is updated to reflect the current state of research on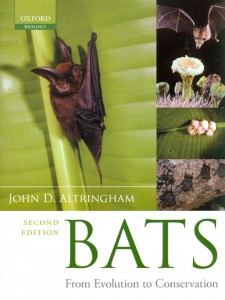 all aspects of bat biology, ecology and and conservation.  Popular interest in bats is at an all-time high with many amateurs becoming involved monitoring their local bat populations and the construction industry legally bound to take their conservation needs into account, reflecting the vulnerability of this diverse and unique group.
Bats: From Evolution to Conservation is a global study covering evolutionary biology, ecology, flight, migration, physiology and much more – and whilst presented as a text for students and researchers, its accessible and enthusiastic style means it also holds appeal for amateur naturalists and anyone interested in bat conservation.
Review of the previous edition:
"This is an excellent book from one end to the other and I highly recommend it to students and colleagues. It is a book that meets its stated goal … to use bats to illustrate processes and concepts in biology. When it comes to ecology and behaviour, he has more than succeeded … Bravo!"  Journal of Animal Ecology
Who?
John D. Altringham is Professor of Animal Ecology and Conservation at the University of Leeds, UK, where he has been since 1989. He completed his BSc at the University of York, and his PhD at St. Andrews University, where he returned as a research fellow from 1983-1989. During his career he has travelled widely, studying animals as varied as tuna fish and tarantulas before focusing on bat ecology and conservation. He has published over 100 scientific papers, numerous book chapters, and two previous books: Bats: Biology and Behaviour (OUP, 1996), and British Bats (Harper Collins, 2003). He is also a regular advisor and contributor to BBC Natural History Unit productions for TV and radio, and is a member of a number of conservation advisory groups, including the Nature Conservation Panel of the National Trust. John lives on the edge of the Yorkshire Dales with his wife, Kate, and two children, Alex and Anne.