With wildlife conservation high on everyone's agenda, here are some recommendations to introduce you to the natural diversity of your garden, and help you to create a haven for wildlife on your doorstep: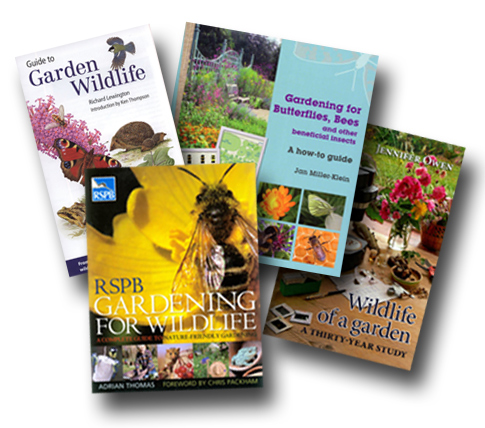 Guide to Garden Wildlife

,

by Richard Lewington, is a field guide to all the wildlife you might expect to encounter in the garden – from mammals, birds and insects to invertebrates and pond life. The species descriptions are full of useful detail, and Lewington provides the intricate illustrations that make this a real treasure of a handbook. There are informative sections on garden ecology, nest-boxes and bird feeders, and creating a garden pond.
Gardening for Butterflies, Bees and Other Beneficial Insects

,
by Jan Miller-Klein, homes in on practical techniques for encouraging insect diversity in your garden. A large-format tour through the seasons, with additional sections on tailored habitats, and species-appropriate planting, this beautifully photographed guide is perfect for every bug-friendly gardener looking to provide a good home for the full range of insect life.
RSPB Gardening for Wildlife: A Complete Guide to Nature-friendly Gardening
,
by Adrian Thomas, is a fantastic encyclopaedic introduction to how best to provide for the potential visitors to your garden, while maintaining its function for the family. A species-by-species guide to the 'home needs' of mammals, birds, insects and reptiles is followed by a substantial selection of practical projects, and helpful hints and appendices, to get your garden flourishing – whatever its size.
Dr Jennifer Owen's

Wildlife of a Garden: A Thirty-year Study

,

is a rare and illuminating book, in which is recorded – in scrupulous detail – the evidence of dramatic changes in populations in a single suburban garden in Leicester over a thirty-year period. An abundance of beautifully presented data, discussed in the context of wider biodiversity fluctuations, is balanced with numerous colour photographs, illustrations, and descriptive natural history of the residents of the garden. Modest in one sense, but unbelievably grand in timescale – and in its completeness – the rigorous effort and expertise that have been applied to the task of collecting and interpreting these data make this study a real one-off in the field of natural history writing.