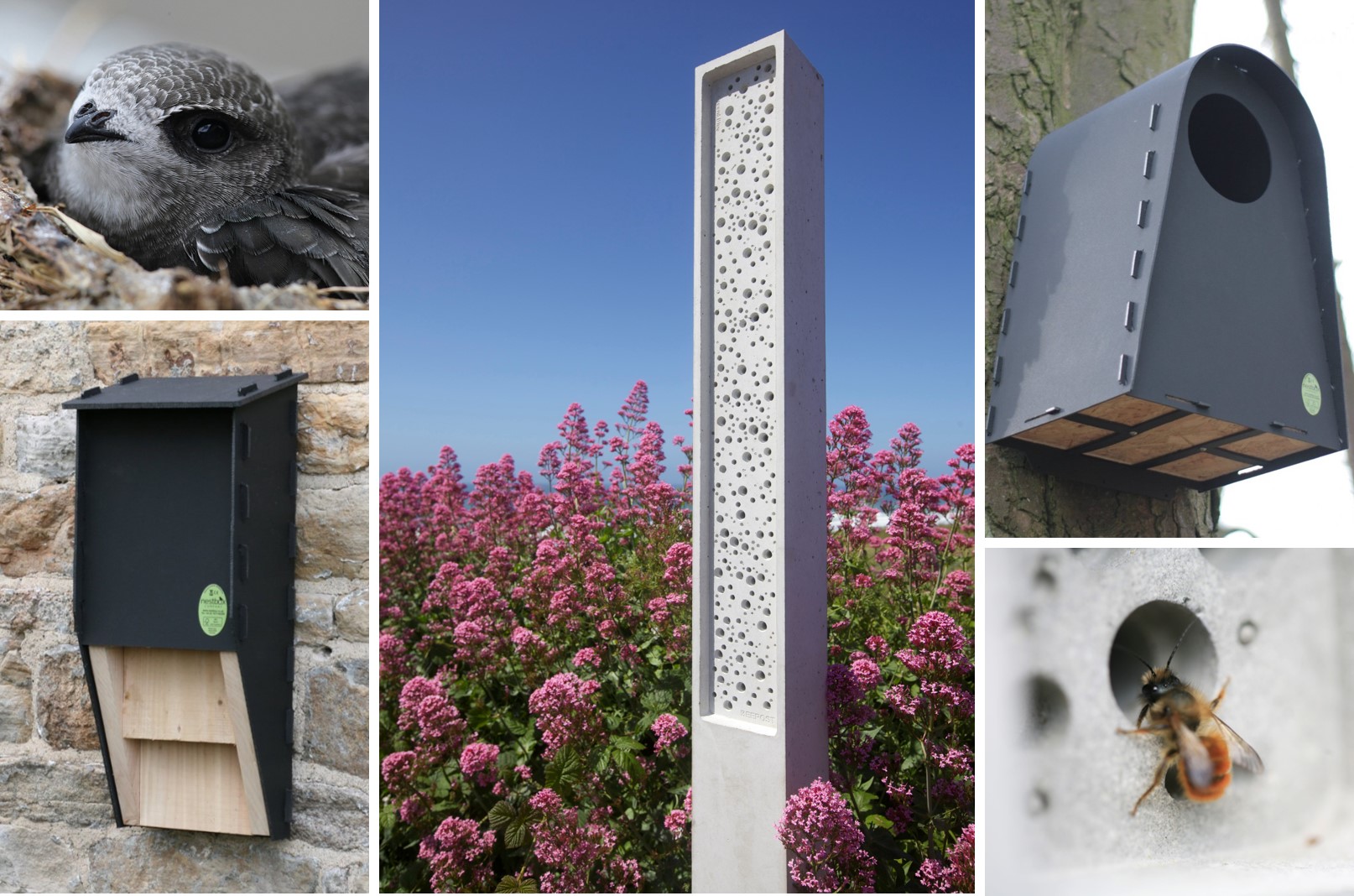 Providing nesting and roosting spaces for our wildlife is increasingly important as natural habitats and nest spaces are diminishing. Luckily, with the huge range available today, boxes for birds, bats and even bees can be sited almost anywhere from a tree in your garden, to within the walls of a new building and even free-standing. Below we will take a look at some of our newest bird, bat and bee boxes and what they can be used for.
introducing the Integrated Boxes by Green & Blue
Green & Blue have just released two brand new products ready for this Spring.  Designed to be simple and easy to fit within the framework of new builds, the new Swift block and Bat block are sleek and made from recycled materials from the Cornish china clay industry. Both are standard UK block size and have slightly protruding entrances.
Green & Blue BestSellers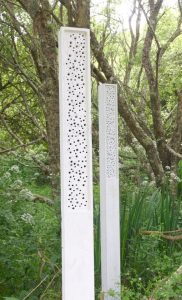 As well as their new swift and bat boxes, Green & Blue also sell a range of blocks for bees. The blocks are made of 75% waste materials from the Cornish china clay industry and features small holes that appeal to a range of solitary bee species. The blocks range from small, brick-shaped blocks that can be built into walls or buildings, to large, stylish posts reaching 2.3m high, to plant pots that have space for you to plant bee-friendly flowers next to the solitary bee nesting holes.

New additions to the Eco Range

The 'Eco' range of boxes has recently expanded to feature a new Eco Bat Shelter and an Eco Tawny Owl Nest Box. These boxes are made of recycled plastic and the bat shelter comes in both a standard black and a brick-red colour. The bat shelter features a ceramic insert that helps to stabilize the internal temperature and is self-cleaning. The tawny owl nest box contains an FSC certified wooden nesting chamber which features built-in drainage holes meaning maintenance can be kept to a minimum. 
Aside from the new bat shelter and Tawny Owl nest box, the Eco range also includes a variety of boxes to cater for a wide range of bat and bird species. All of which are made from 100% recycled plastic and FSC certified wood and wood composite internal chambers. Click the images below to find out more.
Eco Range Bestsellers
Integrated Habibat 003 Blended Box

The Habibat 003 is based upon the original Habibat box but features a blended facing to allow it to fit more seamlessly in building where the brickwork is built using stretcher/blended bond. The box provides the same internal roost space with insulating concrete and comes in a choice of three popular colours: smooth blue, smooth red or buff. If you have a more specific brick requirement or would like the box to match exactly your batch of bricks, the 003 is available with a custom facing where you can send your own bricks to be used or provide your brick code for the manufacturers to use on your box.
more information
If you would like some more advice on choosing bird or bat boxes, take a look at our previous blogs listed below or contact us via email at customer.services@nhbs.com or phone on 01803 865913.
Best Bird Boxes for Different Species 
Top 10 Bat Boxes for New Builds and Developments
Top 10 Bird Boxes for New Builds and Developments   
Top 10 Bat Boxes for Walls and Fences
Top 10 Bird Boxes for Walls and Fences
Top 10 Bat Boxes for Trees and Woodland  
Top 10 Bird Boxes for Trees and Woodland
The Importance of Nest Sites for Birds and Bees