This autumn NHBS has set up shop at various meetings and conferences across the UK.
Anneli and Karen were presenting some of our latest books and field kit at the Butterfly Conservation Meeting at Cheltenham Race Course last Saturday, whilst Anneli will be at the BTO Annual Conference in early December. We always love the chance to meet customers old and new in person, so please do come and say hello if you see us!
Anneli also attended the Sherborn Meeting at the Natural History Museum in London two weeks ago. The meeting commemorated the 150th anniversary of Charles Davies Sherborn's birth with extremely stimulating talks on the current state and future of taxonomy. The book Priority! The Dating of Scientific Names in Ornithology was launched at this meeting.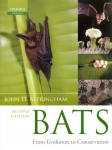 Earlier this month, Nigel and Steaphan went up to the IEEM autumn conference in Liverpool, the BCT National Bat Conference in September, and the Scottish Bat Workers Conference in Sterling last weekend. Bat workers and ecologists are agreed that the new edition of John Altringham's Bats is a must – read an interview with John here.