Continuing our selection of the very best titles available through NHBS:
John F. Oates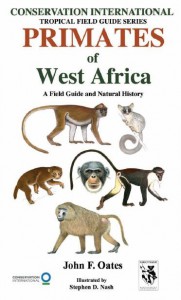 What?
New volume in the Tropical Field Guide Series from Conservation International.
Why?
Full of information about the primates of the highly bio-diverse West Africa region – from the coast of Senegal to Lake Chad and Cameroon's Sanaga River, The Primates of West Africa focuses on the Guinean Forest, one of the world's Biodiversity Hotspots.
This compact guide is portable for field use, and introduces the region – topography, climate, vegetation, native peoples and history – as well as its primate inhabitants. Initial essays cover primate classification, evolutionary history, and the history of field research and conservation in the area, while the species accounts extend the traditional field guide format of identifying features and location to include concise but thorough information on natural history and conservation status, making this volume invaluable for the primate researcher and field worker, as well as the eco-tourist or wildlife enthusiast.
Includes full-colour plates by Stephen D. Nash, colour photographs and distribution maps for every species and subspecies.
Who?
John Oates is Professor Emeritus of Anthropology at Hunter College, City University of New York, where he was a member of the teaching faculty from 1978 to 2008. He has a PhD in zoology from the University of London based on studies of the ecology and behavior of black-and-white colobus monkeys in Uganda, and has had research affiliations with Rockefeller University (New York), Cambridge University, the University of Benin (Nigeria), Njala University College (Sierra Leone) and Oxford Brookes University (England). More…