Continuing our selection of the very best titles available through NHBS:
by Michael Chinery
What?
A photographic guide to the natural history and field identification of the "strange lumps and bumps that we call galls…" (Introduction, p5).
Why?
Plant galls are a great subject of research for the amateur naturalist. Bridging the sciences of botany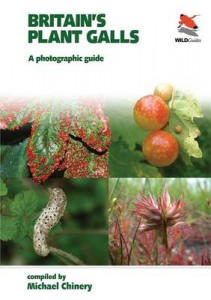 and entomology, they are a fascinating example of the symbiotic interdependence of nature, and the diversity of their size and appearance – from exquisitely attractive orb-like features and spiked swellings, to leaf blisters and discolourations – gives the interested naturalist a satisfying range of study.
The reader is taken on a guided tour of the galls arranged according to their host plants for ease of identification, and there are over 200 detailed colour photographs of the commonest galls to be found among Britain's 1,000 species. The interaction between insect and plant which results in the gall is briefly described in each case, and the book contains a general introduction to the subject.
Who?
Michael Chinery is best known for his field guides to insects and other creepy-crawlies, especially those that occur in our gardens, and for his numerous books encouraging young people to explore and enjoy the countryside and its wildlife. Insects and wild flowers fascinated him from a very early age and this led inevitably to an interest in plant galls, with their intimate mix of plant and animal life. He joined the British Plant Gall Society soon after its formation  in 1985, and has been editing the Society's journal, Cecidology, since 1990.