Continuing our selection of the very best titles available through NHBS: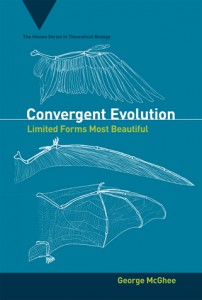 George McGhee Jr

What?
New volume in the MIT Press Vienna Series in Theoretical Biology.
Why?
Following the ethos of this series which looks in detail at the theoretical models behind the practical application of the biological sciences, this new volume looks at the phenomenon of convergent evolution through its manifestation in animal and plant biology, as well as in natural systems of all scales from the molecular world to large-scale ecosystems, and finally extending into the realm of mind where convergent characteristics are found in phenomena like tool use, and the evolution of various behaviours such as reproduction and herding.
This is a fascinating account of the state of current thinking on this subject, which brings into perspective the possibilities of life on our planet and Darwin's vision of "endless forms most beautiful".
Who?
George McGhee Jr is Professor of Paleobiology in the Department of Earth and Planetary Sciences at Rutgers University and a Member of the Konrad Lorenz Institute for Evolution and Cognition Research in Altenberg, Austria.