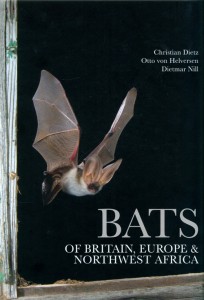 Autumn must be the time that bat books come home to roost – several new titles have just flown into NHBS, with more on the horizon. The hottest new title is Bats of Britain, Europe and Northwest Africa – now in stock at NHBS. This substantial reference with hundreds of intriguing photographs is certain to appeal to anyone interested in knowing more about the bats of Britain and Europe. Get your copy today – and save £5!
This comprehensive and superbly illustrated handbook presents for the first time all 51 bat species that occur across Europe and Northwest Africa, taking in to account recent taxonomic advances and new species descriptions from over the last few years. The discovery of new species in Europe, after a century of intensive investigations, indicates the limits of our knowledge and how far we are from a comprehensive understanding of bat ecology, biology, behaviour and biogeography. It was this need, especially as it affected conservation in the light of habitat loss and fragmentation, that motivated the authors of this landmark work. This is a new English language edition – this book was previously published in German.
View internal images from this book
Also selling well at NHBS is British Bats – A Guide to Identification Using Sound Analysis – which is due to be published in October 2009. Preorder your copy today!
Check out our great selection of bat detectors, bat boxes and related equipment; for more information on choosing a bat detector, browse the NHBS Quick Guide to Bat Detectors.