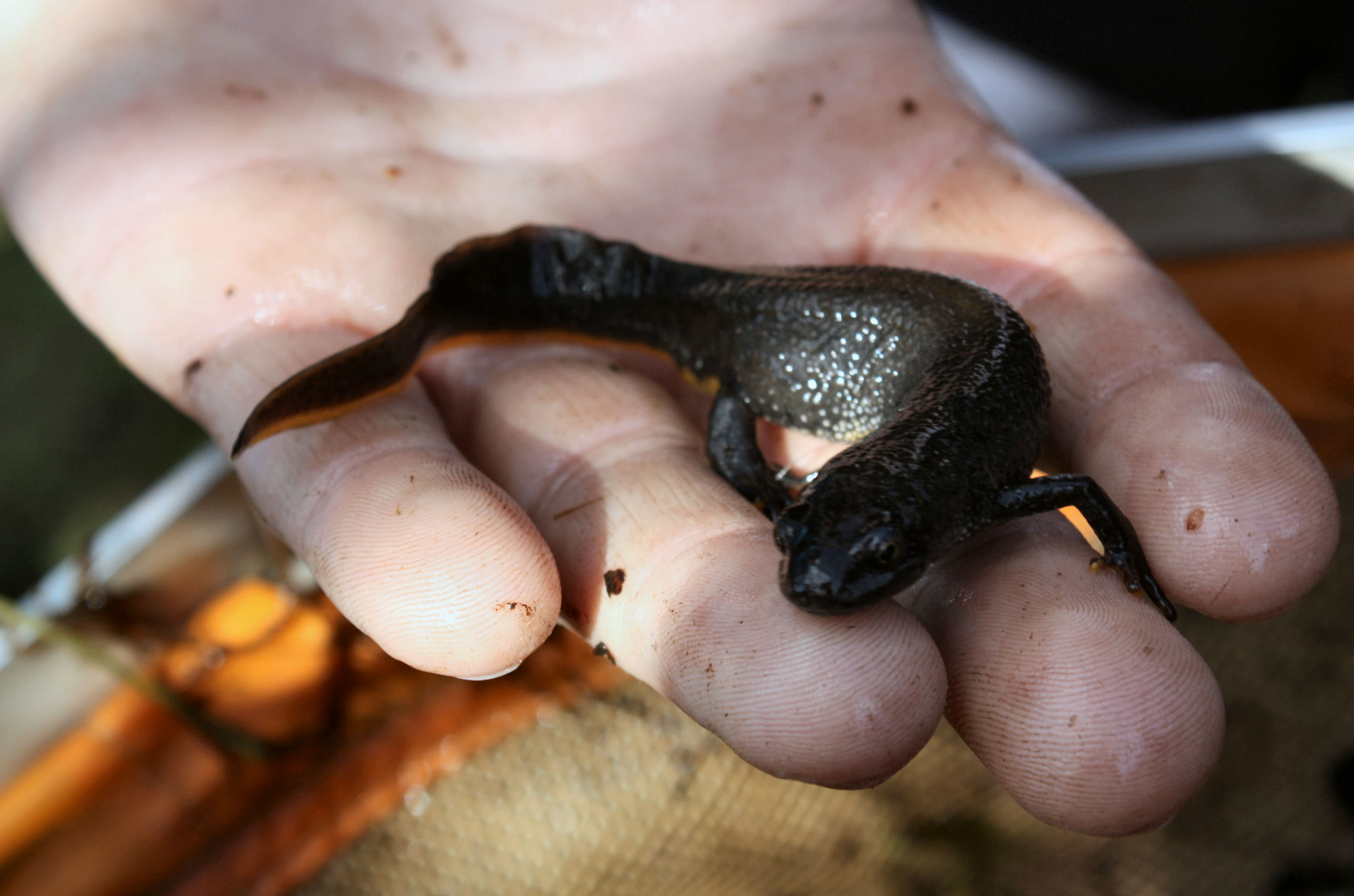 What is eDNA?
eDNA or environmental DNA is genetic material found in the environment. This DNA comes from organisms in various forms including (but not limited to) faeces, mucus, gametes, shed skin or hair. Although eDNA degrades over time, it can persist long enough for its presence to be tested from environmental samples.
eDNA sampling for Great Crested Newts
Sampling and testing of eDNA in pond water is a relatively new, but increasingly popular, method of determining presence of Great Crested Newts. Provided that the sampling and analysis protocol complies with DEFRA guidance and that samples are collected between 15th April and 30th June, then eDNA test results are accepted by Natural England and Natural Resources Wales.
Unlike traditional methods of bottle trapping or torch searches, collecting pond water samples for eDNA analysis has very low impact on newts and other pond inhabitants. It also has obvious benefits in terms of labour time, and ecologists are less restricted to specific times of day for surveying. It could also provide a more accurate method of determining the presence of Great Crested Newts which are notably difficult to survey reliably. The technique is not without limitations, however, and can be problematic in ponds with large amounts of algae or sediment or where accessibility is a problem.
How do you collect and analyse eDNA samples?
The sampling process involves the use of a sterile ladle to collect 20 samples of pond water which are then mixed together in a bag. A small volume of this pond water is then added to each of six tubes containing a preservative solution and control DNA. These tubes are returned to the lab where quantitative PCR (qPCR) is used to amplify and measure the GCN DNA (if present), thus determining the presence of GCN eDNA in the samples.
NHBS and Nature Metrics
This spring, NHBS will be working with Nature Metrics to provide a complete GCN eDNA analysis service. Combining our expertise in sourcing, packing and shipping equipment with the excellent laboratory proficiency of Nature Metrics, this partnership will allow both teams to focus fully on our strengths in order to provide a fast and efficient service.
For more information about Nature Metrics and the eDNA, Metabarcoding and Metagenomics services they can provide, please visit www.naturemetrics.co.uk
UPDATE April 2018: Following a successful season in 2017 in which 100% of kits and results were delivered on time, NHBS and NatureMetrics will once again be working together to provide a complete GCN eDNA Service. For more information visit our website.