Since the last time we posted on the subject, a lot has happened in the world of book series. Just recently, some wonderful new monograph series have been announced, filling gaps in the literature. Here are the highlights:
The Spiders of Europe, a Synthesis of Data, published by the Société Linnéenne de Lyon in four volumes, is a welcome new overview of current knowledge about the European spiders, with the first volume, Atypidae to Theridiidae, available now.
The Flora of Nepal is an ambitious project coordinated by the Royal Botanic Garden in Edinburgh. The publication of ten volumes of the Flora of Nepal is planned, Volume 3: Magnoliaceae to Roseaceae being available now.
The Fauna of Suriname is being developed by a number of agencies in Suriname and the Netherlands, with the first two volumes on Freshwater Fishes of Suriname and Amphibians of Suriname due this spring.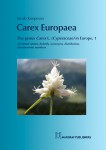 Sedges receive treatment in the new series Carex Europaea, with the first volume, The Genus Carex L. (Cyperaceae) in Europe, 1: Accepted names, hybrids, synonyms, distribution, chromosome numbers, available now.
You can set up a standing order with NHBS for these, and any other series, that we list on nhbs.com.
Look out next month for Part 2 of our Series Update which will look at ongoing series which have recently been resurrected, with new volumes published after a long break in publication.